Getting here & Mobility
Vorarlberg is located in the far west of Austria, right next to the borders Germany, Liechtenstein and Switzerland. Vorarlberg is a pleasantly sized region, easily to get to from all directions and by all modes of transport.

Getting here & Mobility
Getting here
BY TRAIN
Travel comfortably to Vorarlberg by train. From Germany by Deutsche Bahn via Lindau to Bregenz, from Switzerland via Zurich to Feldkirch or Bregenz and from Austria via Innsbruck and the Arlbergtunnel.
Austrian Federal Railways
German Railways
Swiss Federal Railways
There is a direct train between Munich main station (GER) and Bregenz several times a day. The run time is about two hours. Direct trains also run several times a day between Zurich Airport and Bregenz. The train journey takes around 1.5 hours.
New for congress organisers: With the ÖBB Congress Account your participants travel environmentally friendly, comfortably and favourably priced to your event. The congress discount is 22% off the ÖBB standard price, 10% off the international standard tariff and a special price for the ÖBB nightjets. The booking and payment will be made directly by the participants. For the organiser, the ÖBB Congress Account includes a report on the CO² savings of all trips booked via the congress account.
Long-distance coaches are serving Vorarlberg from innumerable destinations within Europe. HERE you will find an overview of the routes, times, prices and bus operators.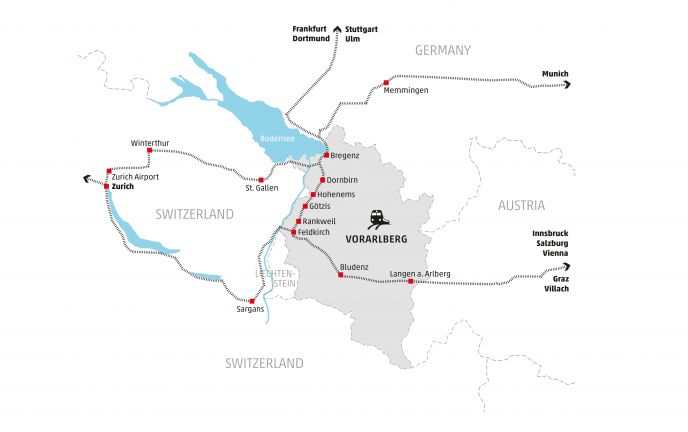 BY CAR
Vorarlberg is easily accessible from all directions. Toll stickers are required for motorways and dual carriageways in Austria.
Plan your route
BY PLANE
Bodensee-Airport Friedrichshafen (GER) is the closest airport with international connections, by car only 30 minutes from Bregenz. Every day (except Saturday) the People's Viennaline offers scheduled flights to and from Vienna to St. Gallen-Altenrhein (SUI).
The closest airports (distance to Bregenz):
St. Gallen/Altenrhein (SUI, 25 km)
Friedrichshafen (GER, 32 km)
Memmingen (GER, 83 km)
Zurich (SUI, 122 km) - CO2 neutral airport
Munich (GER, 190 km) - CO2 neutral airport
Innsbruck (AUT, 200 km)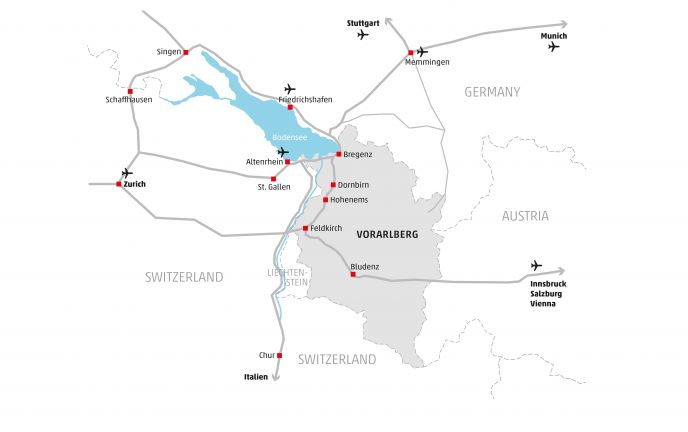 Offsetting CO2 Emissions
Many people travel regularly on business to events and congresses in other regions and cities. Such travel consumes many resources, causes emissions and is detrimental to our environment. But there are simple ways to offset the CO2 emissions that travel produces:
Mobility in Vorarlberg
The distances in Vorarlberg are short and the public transport network is well developed. Business guests and congress participants are able to utilise many of the options that are available for getting around Vorarlberg in an environmentally friendly way:
FREE TICKET FOR TRAINS & BUSSES WITH THE ÖPNV EVENT TICKET
The ÖPNV event ticket entitles participants to use the public transport network in Vorarlberg free of charge. An application for the ticket is made in advance by the organiser and it can then be downloaded digitally to mobile phones and tablets. When certain conditions have been met, Convention Partner Vorarlberg is also able to provide financial support for conference organisers applying for event tickets for their participants.
Get in touch with us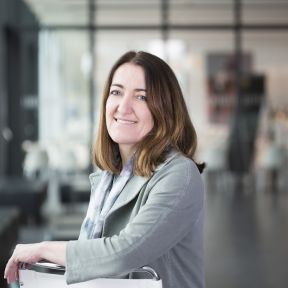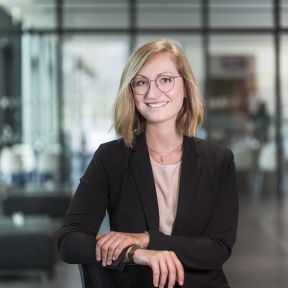 Janina Hristov
Project Management (on maternity leave)